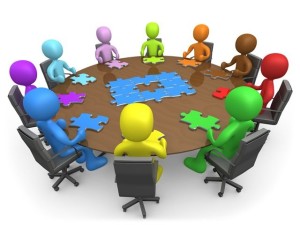 Putting the Puzzle Back Together with Included Intensive Outpatient
Sober Men Living has contracted with a outside providers to offer a customized Intensive Outpatient Program (IOP) specifically designed to enhance and reinforce the quality of life of our residents.
Professional Qualifications
The selected counselors have advanced clinical training in the practice of psychotherapy and are licensed/certified by the state of Georgia as marriage and family therapists, professional counselors, clinical social workers, and certified addiction counselors. Our counselors are committed to providing only the highest quality of care. All counselors participate in the latest in training about addiction, co-occurring disorders and recovery to ensures you will receive the latest and most effective services available.
How are they different?
What makes these counselors different from other counselors or agencies is the experience, training and perspective they brings to each client: an integration of sound clinical practice and a deep understanding and respect for every client. They provide the direction and support necessary to make lasting change for continued long term recovery. They meet you where you are on life's journey, supporting and challenging you with compassion.
We help and do not judge
The selected IOP providers support and affirm all persons, serving those of every age, gender, race, religion, creed, sexual orientation, and ethnic background.
Why choose IOP?
IOP for individuals ages 18 and older includes personalized, comprehensive and 12-Step based addiction treatment and psycho-education with the flexibility to fulfill personal and vocational obligations.
An individual's intensive outpatient experience begins with a comprehensive bio-psychosocial evaluation by the multidisciplinary treatment team to determine the severity of the substance abuse disorder. IOP is a structured program, requiring a minimum of 16 weeks of non-residential treatment, which includes three required groups per week, for a total of nine weekly hours. Individual and family therapy are also an integral part of the IOP.
The Intensive Outpatient Program includes a number of specific group therapy components:
Process groups address early recovery issues and delve into deeper issues that impact long term recovery
Psycho-education groups address a range of topics surrounding addiction and recovery
Relapse prevention groups explore relapse triggers and actions, and help individuals develop their own relapse prevention plan
Spirituality groups help define core spiritual principles including honesty and courage
Dialectical Behavior Therapy for substance abuse —(DBT-S) Skills based group focused on four modules which include mindfulness, interpersonal effectiveness, emotional regulation and distress tolerance.
Addiction and Recovery focused Meditation and Yoga
Family program
The IOP has a family program that uses techniques to help the family with problem solving, communication, and coping skills. Substance abuse is a "family disease" — the negative behaviors of the family member who abuses drugs or alcohol creates confusion, pain, and often poor interpersonal relationships.
The family recognizes the problem before their addicted loved one is ready to acknowledge or get help for their addiction. Addiction reaches far beyond the individual, and with family involvement, chances for sustained recovery increase dramatically.
There are two basic types of therapy for families of addicts/alcoholics: family education and family-involved therapy. Addiction is not merely an issue of willpower; it is a brain disease that affects addicts in such a way that they are unable to stop using drugs despite negative, even devastating consequences.
Individual Counseling
Includes perspectives: Behavioral Therapy (CBT) which is a structured, goal-oriented, and focused approach to address the immediate problems faced by people who abuse alcohol or drugs. It is beneficial in helping clients recognize situations in which they are likely to use substances, find ways to avoid those situations, and cope more effectively with the situations, feelings, and behaviors. Other counseling modalities that explore deeper issues also are available
Dialectical Behavior Therapy for Substance Abuse (DBT-S) DBT-S incorporates concepts and modalities designed to promote abstinence and to reduce the length and adverse impact of relapses. Clinical trials have found that DBT decreased substance abuse in individuals with co-occurring disorders. The treatment is helpful for patients who have other severe co-occurring disorders or who have not responded to other evidence-based recovery therapies.
IOP Fees
Most private insurance plans cover some portion of outpatient treatment of addiction and behavioral health issues. The IOP provider will verify your coverage to. They will arrange pre-certification of charges and file all necessary insurance forms.
The IOP Provider offers the following payment options:
Cash
Check
Extended payment terms
Financing offered through American HealthCare Lending (800-625-7412) who is the premier financing company in the behavioral health industry. A link is available on our website.